Bowing Wall Repairs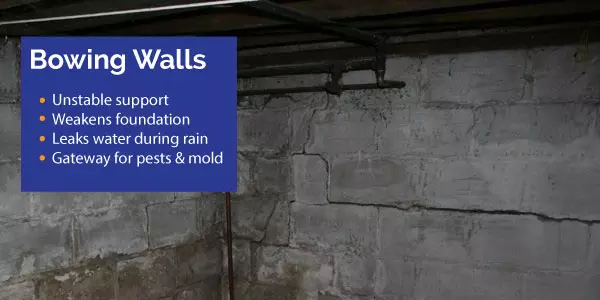 Bowing walls can sometimes be subtle and unnoticeable, however, any protrusion of your basement wall is a serious condition. At Musick House Leveling we have been assisting homeowners in St. Louis and 100 mile surrounding areas of Missouri and Illinois with bowed wall repairs since 1987, advancing in technologies and methods for effective solutions. If you are experiencing any symptoms of wall cracks, buckling walls, or unexplained instances of deformed mason walls, contact us for more information and a free consultation of the problem. We provide repairs for bowing walls to a large service area in MO & IL.
Causes of Bowed Walls
Foundation walls move inward primarily due to expansive soils and hydrostatic pressure on the walls from outside. However, foundation walls may also crack from foundation settlement, as well as from several other issues. A professional consultation is useful to accurately identify what kind of foundation issue is causing the problem in your home.
Our Solutions
There are two basic methods we offer to repair any type of wall that bowing or buckling. The methods are The Reinforcer Carbon Fiber Wall Reinforcement System or The Force® Bracket Foundation Repair System.
The Reinforcer® Carbon Fiber Wall Reinforcement System
The Reinforcer is a carbon fiber foundation wall repair system. Developed by engineers, this foundation repair product is the successful blend of modern, aero-space polymers and carbon fiber manufactured into a material which is nearly impossible to elongate (stretch). Only 4″ wide and thin as a dime, The Reinforcer carbon fiber plate (strap) is eight to ten times more stretch resistant than steel!
The Reinforcer carbon fiber Plate is only 1/16 inch thick and 4″ wide, making installations unobtrusive and nearly hidden when painted over! Installation is easier than the traditional steel beams:
No expensive or heavy equipment
No dusty or messy concrete
No invasive measures like jack-hammering
It is important for homeowners to take care of their foundation wall problems before they turn into an even more serious issue. A lot of foundation problems can even be dangerous if left untreated. Provide them with the best foundation wall repairs by using our products!
The Force® Bracket Foundation Repair System
Basement foundation walls bow and crack due to the extreme loads put on them by expanding soils, and this is when The Force® bracket wall repair will come in handy. Soils naturally expand and contract throughout the year, making previous repair methods very labor and time intensive – on both the homeowner and contractor. Technicians would have to re-enter the home every year, at the right time of year, to adjust previous brace systems. But not any longer.
The Force® is a patent pending structural tension loaded I-beam wall repair system that is designed to straighten block or concrete walls over time. This is a major advancement in foundation repair. And it all happens automatically without any effort from the homeowner.
The key is the unique patented spring-coil design applying 1,000 pounds of constant corrective pressure against the foundation wall. During hot dry weather conditions the soil around the foundation walls dries out, pulling away from the home and reduces its pressure on the walls. That is the best time to return a wall to a plumb condition. This is when the Force's tension loaded spring instantly goes to work, applying pressure against the steel I-beam. This immediate and constant effort require no extra labor from a technician. The Force immediately applied corrective pressure to physically straighten and structurally support the wall, permanently.
House Leveled in CentraliaCentralia, IL
Ina - CentraliaCentralia, IL 62801