House Leveling
Musick House Leveling offers reliable solutions for uneven homes that are experiencing sinking foundations or crawl spaces. Assisting homeowners since 1987 with house leveling services, our service area consists of St. Louis and 100 mile surrounding areas in Missouri and Illinois, becoming expansive from popularity and certifications of trusted names in the business. This includes Angie's List and BBB with A+ ratings acquired from years of experience and dedication to our customers quality assurance.
Foundation Failure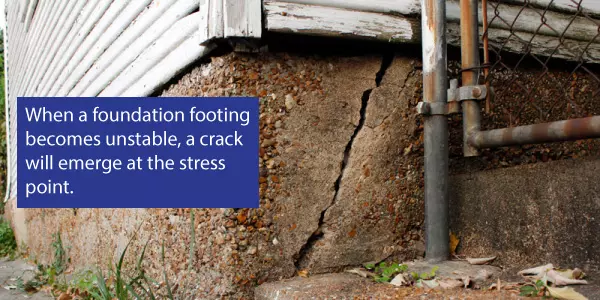 When a foundation completely fails and piering won't provide a solution because the foundation is too worn out then you have two basic options. First and most costly but also the most effective repair method is to raise up the home off the foundation – tear out the old foundation and pour a new foundation – then we simply set the home back down. Since our firm has moved 100's of homes we are very experienced in how to properly raise up and then resettle a home onto it's new foundation. A total replacement is the last option but it does happen.
Often when just one area of a home is sinking we can use push piers to raise, level and secure that area of the foundation. A pier is a steel pier that is attached to a support bracket on the footer. Using great force we drive the steel pier sections into the earth until we hit support strata. At that point the structure can then be lifted to restore the structural integrity and allow the home's foundation to be secure and stable.
Other ways of fixing foundations that have caused a home to become unlevel include concrete piers, sister walls and both push and helical piering systems. In order for us to best determine what is the best solution for you we'll need to setup a time where Eric Musick can come out and do an inspection. He will do his very best to find a great solution at a reasonable cost.
Experts say 75% to 85% of their foundation repair jobs are due to inadequately designed basement walls and footings.
A few commonalities exist, though. Foundation failures are highest in areas with expansive clay soils, where changing moisture levels cause the soil to expand and contract. Failures can also be caused by unattended to plumbing leaks, frost heaves, improper back filling, erosion, and nearby construction or street creep.
Correctly diagnosing the cause of a failing foundation takes a considerable amount of experience and knowledge. If initial investigations lead you to suspect the foundation or footing may be failing, the first step is usually to get some sort of Foundation Failure Report that explains the extent of the problem. If need be we can bring in a structural engineer to assist in the assessment.
Get A Free Estimate
Fill out the contact form or simply give us a call for a free evaluation and written repair estimate for house leveling services.
Foundation Replacement in Belleville, IL
Justin F. - Belleville, IL 62220