Floor Leveling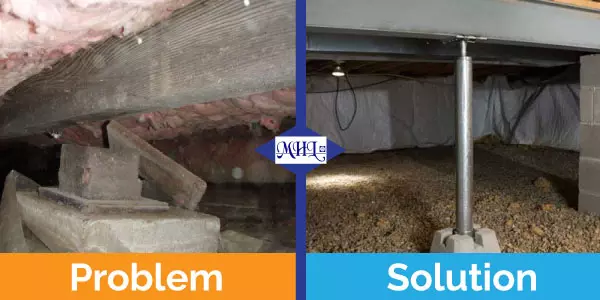 When you're experiencing uneven floors within your home, Musick House Leveling has the solutions you need to realign and repair the root of the problem. Since 1987 we have assisted homeowners in St. Louis and surrounding 100 mile areas of Missouri and Illinois with floor leveling. In 90% cases this is a crawl space issue, where beams have become busted, bent, or broken, leaving your home vulnerable to sag.
Causes of Uneven Floors
The age of your home and years of the ground moving often lead to floors that start to sag or become uneven. The weight of a home is the culprit for most floors we find that are not level. Additionally, in the St Louis region we have a lot of unstable or plastic type soil so the earth is continually expanding and contracting – the result is the foundation moves and the floors become unlevel. Not to worry though, we fix this problem everyday.
Solution is The PowerPost®
The PowerPost® is an extremely high strength, adjustable steel column designed specifically to stabilize or raise sinking and unlevel floors over crawlspaces. We have put thousands of hours into research, design and in-field testing to ensure that this crawlspace stabilization system will stand the test of time for your customer.
Key Benefits
Easy installation, even in tight conditions.
Stronger and higher capacity than jack-posts found in local hardware stores.
Fully adjustable.
Galvanized Steel tubes & Zinc-coated components protect against corrosion.
Schedule An Appointment
If you feel you're home is experiencing any of the above symptoms, please do not hesitate to contact us using our online form or call us for a free consultation about floor leveling.
Basement in Fairview Heights, IL
Honest, accurate, and prompt assessment of my basement for a potential moisture issue. None found! Eric's expertise in the field set me at ease. A true "Basement in Fairview Heights, IL"
MC - Fairview Heights, IL 62208